Stiebel Eltron Scale TAC-ler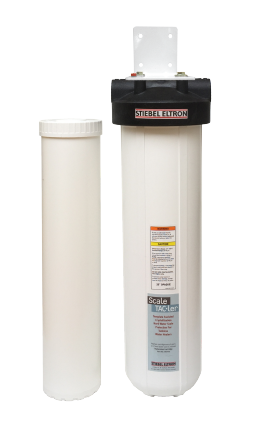 5.0

out of 5 stars (1 review)
Review this product
Stiebel Eltron Scale TAC-ler
for Tankless Water Heaters

Save an additional US$10.00
when purchased with a Tempra or Tempra Plus.

To order your filter at the discounted price with your Tempra or Tempra Plus purchase, add the water heater you want to buy to your shopping cart first. You will then be given the option to add accessories at the special discounted price!

---

MSRP:

US

$

445.00

Our Price: US$

325.00

You save: $120.00




Nothing reduces water heater efficiency more than hard water mineral scale. Accumulating on heating elements, it slowly reduces both heat transfer and water pressure, leading to lower performance, and it may cause premature failure. Preventing mineral scale formation with the Stiebel Eltron Scale TAC-ler ensures your water heater's optimal performance and service life.
Scale TAC-ler is a salt-free water conditioner compatible with all tankless and conventional tank-style water heaters. Scale TAC-ler is installed on the cold water inlet of the water heater, where it treats the water entering the water heater. It will provide protection for flow rates up to 6 gallons per minute.
How Scale TAC-ler Works
Scale TAC-ler salt-free water conditioners use a specialized polymeric bead medium that serves as a catalyst for the formation of calcium and magnesium carbonate nano-crystals. Instead of forming hard mineral scale on surfaces, these microscopic crystals of calcium and magnesium carbonate remain suspended in solution and pass through to the drain. This process is called Template Assisted Crystallization, or "TAC." A university study determined that TAC technology was the most effective of all non-salt water conditioners at preventing mineral scale, with reduction levels consistently in excess of 90%.
Protects from harmful hard water scale
Protects manufacturer's warranty coverage
Protects equipment investment
Ensures optimal performance and efficiency
Maintains water pressure and flow rates
Does not add chemicals to the water
Does not change the taste, smell, or feel of the water
Environmentally friendly
Simple installation
No daily maintenance
No salt, backwashing, chemical regeneration, or brine discharge
Ideal for all tankless or tank-type water heaters
Built-in sediment pre-filter
Stiebel Eltron Scale TAC-ler
Filter Type:
Template Assisted Crystallization (TAC)
Replacement Cartridge:
Stiebel Eltron TAC6R
Estimated Cartridge Life:
2 years
Installation Manual:
Stiebel Eltron Scale TAC-ler installation manual
Max. Descaling Service Flow Rate:
6.0 GPM / 22.7 L/min
Max. Flow Rate Through Device:
10.0 GPM / 37.85 L/min
Max. Water Pressure:
90 psi / 6.2 bar
Min. Water Pressure:
30 psi / 2 bar
Temperature Range:
40-100°F / 4-38°C
Dimensions:
13" x 24" / 33 x 61 cm
Connection Type:
3/4" NPT
Valve Type:
Ball Valve
Material:
Plastic
Approx. Cartridge Life:
2 years
pH Range:
6.5 - 8.5
Max. Treatable Hardness Level:
850 mg/l / 50 gpg
Max. Contaminates Levels:
Chlorine: < 3 mg/l
Hydrogen Peroxide: < 0.5 mg/l
Iron: < 0.3 mg/l
Manganese: < 0.05 mg/l
Copper: < 1.3 mg/l
Hydrogen Sulfide (H2S): must be removed
Polyphosphates and Oils: must be removed
Stiebel Eltron Scale TAC-ler for Tankless Water Heaters Reviews
AMAZING TECHNOLOGY


It's truly an incredible piece of work. The folks at Stiebel were super helpful and could not have been nicer with their support. I highly recommend buying from this company. I love having hot water on demand, and no old water heater turning on throughout the night. - David Stanfield