How to determine if your water is hard...
learn about the effects of hard water on the performance of your tankless water heater and how to determine if your water is hard and requires treatment
Learn More About Water Quality &
Tankless Water Heaters:
Water hardness is caused by compounds of calcium, magnesium, and certain metals. Hardness minerals interfere with the lathering action of soaps and detergents, reducing their effectiveness. They also accumulate on surfaces in the plumbing system and heating elements, reducing efficiency and flow performance and causing pre-mature equipment failure. Most of us are familiar with the hard, crusty white scale that forms when hard water deposits build up on a shower head or faucet. The formation of hard water mineral scale is accelerated when temperature increases. For this reason, hard water scale formation is a significant problem for water heaters (tankless/on demand, and tank type water heaters).
3 common units of measurement are generally used to express the level of hardness: grains per gallon (GPG), parts per million (ppm) or milligrams per litre (mg/l). 1 GPG = 17.1 ppm and 1 ppm = 1 mg/l.
While the classification of what constitutes hard water is a matter of opinion, the generally accepted scale of relative hardness ratings is as follows:
Classifcation
Soft
Slightly Hard
Moderately Hard
Hard
Very Hard
Extremely Hard
Severely Hard
Grains per Gallon (GPG)
<1
1 to 3.5
3.5 to 7
7 to 10.5
10.5 to 15
15 to 25
25+
Parts per Million (ppm or mg/l)
<17
17 to 60
60 to 120
120 to 180
180 to 255
255 to 425
425+
Recommendation
treatment not required
may benefit from treatment
significant benefit from treatment
treatment strongly recommended
above 12 GPG or 200 ppm (mg/l)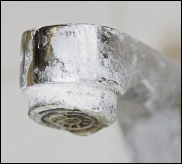 typical hard water scale deposit on a faucet
Hard water treatment is generally recommended by the Water Quality Association and equipment manufacturers when the hardness exceeds 7 grains per gallon (120 mg/l). Based on nearly 15 years of experience selling tankless water heaters, we agree that most installations with hardness of 7 grains per gallon (120 mg/l) or greater will indeed benefit from treatment. Where hardness exceeds 12 grains per gallon (200 mg/l), treatment is strongly recommended.
The best method to determine your hardness level is to have your water tested. Home test kits for hardness are relatively inexpensive and sufficiently accurate. We recommend the ITS Complete Water Quality Test Kit. You can also find water testing labs who will test the water for you.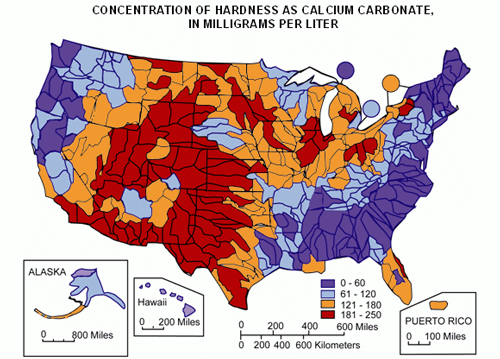 Credit: U.S. Geological Survey
Department of the Interior/USGS
Once you have your water tested, you can compare your results to the chart above to determine if treatment is recommended.
Even without testing, there are some tell-tale signs that your water is hard and may benefit from hard water treatment:
Signs of Hard Water:
difficult to get soaps and shampoos to lather
high consumption of detergents, poor detergent performance
white, hard, crusty mineral build-up in shower heads, pipes, and appliances
history of pre-mature water heater or appliance failure
mineral deposits in kettle, pots, etc. after water was boiled off
You can also review the following map to the right which indicates regions of the U.S. that are more likely to have hard water.
We recommend the following hard water scale prevention for tankless and tank type water heaters:


ecoTAC Protector 6
6 GPM Hard Water Treatment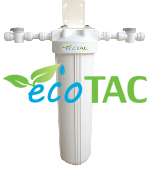 for flow rates up to 6 gallons per minute - salt-free, environmentally-friendly filter designed to reduce the harmful effects of hard water on your tankless water heater
Now Only US$329.95
- More Info -
ecoTAC Protector 4
4 GPM Hard Water Treatment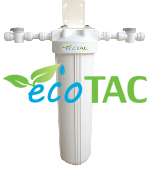 for flow rates up to 4 gallons per minute - salt-free, environmentally-friendly filter designed to reduce the harmful effects of hard water on your tankless water heater
Now Only US$289.95
- More Info -