ecoTAC Protector 6 Tankless Water Heater Filter
uses salt-free hard water conditioning technology to protect your tankless water heater from the damaging effects of hard water scale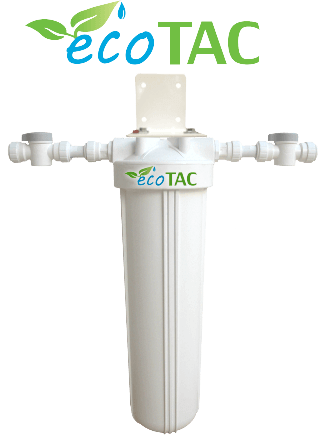 (0 Reviews)
Be the first to write a review.
ecoTAC Protector 6 Hard Water Conditioner
for Tankless Water Heaters

Save an additional US$50.00
when purchased with a Tempra or Tempra Plus.

To order your filter at the discounted price with your Tempra or Tempra Plus purchase, add the water heater you want to buy to your shopping cart first. You will then be given the option to add accessories at the special discounted price!

---

MSRP:

US

$

499.95

Our Price: US$

449.95

You save: $50.00




ecoTAC Protector Series water filters prevent mineral scale from accumulating in your water heater, thereby ensuring optimal performance of your heating elements / heat exchanger; also, these filters reduce the risk of pre-mature equipment failure and maintain optimal flow performance.
Protects the investment in your new water heater
Ideal for all brands of tankless and tank-type water heaters
Ensures optimal performance and efficiency
Maintains water pressure and flow rates
Prevents pre-mature heating element / heat exchanger failure
Built-in sediment pre-filter
Simple operation with no day-to-day maintenance - just replace the filter cartridge every 2 years!
No salt, no chemical regeneration, and no brine discharge!
No backwash - save thousands of gallons of water per year compared to a traditional water softener
When compared to polyphosphate (Siliphos) filters, it is more environmentally friendly and displays superior performance
Does not add any chemicals to the water or change its taste, smell, or feel

Hard water minerals (primarily calcium and magnesium) rob your water heater of its energy efficiency by building up on its heating elements and heat exchanger surfaces. They effectively provide a layer of insulation between the heating surface and the water, thereby reducing heat transfer and putting extra stress on the heating element. Over time, the accumulation of minerals will also reduce water flow (particularly in tankless water heaters) and will lead to "hot spots". These "hot spots" cause premature failure of the heat exchanger which results in costly repairs not covered under manufacturer warranties.
ecoTAC Protector Series filters will provide benefits where the hardness of the water exceeds 7 grains per gallon or 120 ppm (mg/l), and is strongly recommended where the hardness exceeds 12 grains per gallon or 200 ppm (mg/l).

These pictures show water heating elements on a hard water source. Note the significant mineral build-up
on the element with the untreated water vs. the element protected by TAC treatment: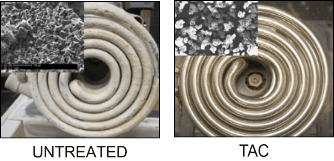 Install on the cold water line prior to your tankless water heater.
Can install 2 or more in parallel flow configuration for higher flow rate applications.
Our ecoTAC Protector Series filters offer unmatched value in tankless water heater filters. We have searched the world for the best components. No other TAC tankless water heater filter offers comparable value - bar none! Each system includes:
Premium water filter housing with pressure relief button - Made by Pentair, one of the world's leading water treatment companies (based in the U.S.A.)
Long life TAC media cartridge - Media Made in U.S.A.
John Guest brand inlet and outlet shut-off valves - Made in U.K.
John-Guest brand quick connect-style fittings (3/4" inlet/outlet) - Made in U.K.
Assembled and packaged in Canada
Learn More About Water Quality &
Tankless Water Heaters:
ecoTAC Protector 6 Specifications:
Technology:
Template Assisted Crystallization Media (TAC)
Dimensions:
8" diameter x 24" tall
Maximum Flow Rate:
6 Gallons per Minute (GPM)
Maximum Hardness:
75 grains per gallon (GPG) / 1,280 ppm (mg/l)
Estimated Cartridge Life:
2 years
Replacement Cartridge:
ecoTAC P6R
Included Accessories:
- heavy-duty powder-coated mounting bracket
- spanner wrench
- inlet and outlet shut-off valves
- quick-connect 3/4" fittings
- pressure relief button
- ecoTAC P6R TAC filter cartridge
- built-in sediment filter
Maximum Pressure:
90 PSI
pH Range:
6.5 to 8.5
Pre-Treatment Conditions:
Iron < 0.3 ppm (mg/l)
Manganese < 0.05 ppm (mg/l)
Copper < 1.3 ppm (mg/l)
Chlorine < 3 ppm (mg/l) - city water OK!
Hydrogen Sulfide - none
Polyphosphates & Oils - none
ecoTAC Protector 6 Hard Water Conditioner
for Tankless Water Heaters Reviews