Stiebel Scale TAC-ler Installation Kit
installation kit for all Stiebel Scale TAC-ler systems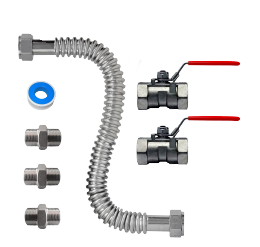 Write a review.
Stiebel Eltron

TAC-ler Installation Kit

The Stiebel Eltron TAC-ler 3G Premium Installation Kit is designed to help you make a tidy, professional, and fast connection between your TAC'ler water filter and Tempra series water heater. The kit includes two stainless steel ball valves to isolate the filter housing for maintenance (filter changes) as well as an 18 inch flexible stainless steel tube to connect the filter directly to the inlet of your water heater.
Contents:

stainless steel ball valve (2)
flexible stainless steel connector (18")
stainless steel HEX nipple (3)
roll of teflon tape
Advantages:

tidy and professional look
ease of installation saves significant time and labor costs
easy to isolate filter for maintenance and filter changes
stainless steel - will not discolor, rust or corrode
can be quickly and easily disconnected for servicing, maintenance or seasonal removal
re-useable and re-bendable connector, will hold bend without kinking or crimping
increased seismic safety - connector will flex rather than break during an earthquake
Highly recommended for customers purchasing the Stiebel Eltron Stiebel Scale TAC-ler.
There are currently no reviews for this product. Be the first to
write a review.