Stiebel Eltron SHC-2.5 Mini Tank
Point-of-Use Water Heater
or

Choose Refurbished

Limited Quantity of Factory Refurbished units available.
Save an additional $81.66!
- more info -
US$107.34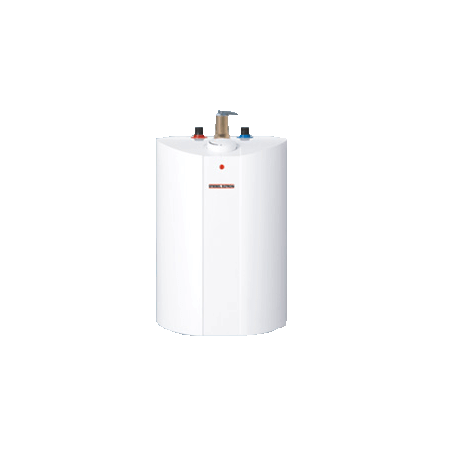 Description
Specifications
Installation / Manual
FAQ
Reviews
Validations
Hard Water
The Stiebel Eltron SHC-2.5 mini-tank point-of-use water heater is ideally suited for supplying hot water to bathroom sinks, kitchens, commercial washrooms, and a wide range of other small applications where only a small amount of hot water is required at a time. Due to its small dimensions, the SHC-2.5 easily fits under the sink or in an adjacent cupboard or closet, so it provides hot water to the point of use almost instantly. By locating the heater right next to the point-of-use, you can also reduce thermal heat loss commonly associated with long pipe runs. You also eliminate the need to run a hot water line all the way from the main central water heater, saving you significant money in plumbing and material cost, if the SHC-4 can supply all of the hot water needs for the room.
The Stiebel Eltron SHC-2.5 Mini Tank Water Heater comes complete with a glass lined tank and high quality insulation in order to substantially reduce stand-by heat loses. Lightweight and small in size, the SHC 2.5 mounts directly to a wall or the side of a cupboard with a sturdy included mounting bracket. Once the unit is full of water, simply plug it into a standard 110-120V electrical outlet. No special wiring is necessary as it uses only an 11 AMP electrical current draw!
Temperature & Pressure (T & P) valve included.
2.65 Gallons
18 Minute Recovery Time
Small Size
Plugs into 110v Outlet
Stiebel Eltron SHC-2.5 Mini-Tank Specifications
| | |
| --- | --- |
| Thermostatically Controlled?: | Yes |
| Max. Temperature Setting: | 140F (60C) |
| Nominal Water Volume: | 2.65 gallons (10 L) |
| Watts: | 1300 |
| Voltage: | 110 - 120 volts / single phase / 50 - 60 Hz |
| Maximum Amps: | 11.3 |
| Dimensions: | 18.7H x 11W x 10.6" (47.5 x 28 x 27 cm) |
| Weight: | 15.9 lbs (7.2 KG) |
| Pipe Fittings: | 1/2" NPT |
| Recovery Time: | 18 minutes |
| Max. Water Pressure: | 150 psi (10 bar) |
| Safety: | ETL Listed (US/CAN) |
| Protection: | Temperature & Pressure (T & P) relief valve included |
| Warranty: | 6 years against leakage / 2 years against defects in workmanship & materials |
*Please note: The SHC 2.5 can be plugged into a standard 110/120v electrical outlet however, we recommend that the outlet be dedicated to the water heater.

Stiebel Eltron SHC Mini-Tank Installation Guide
Adobe PDF Format

Stiebel Eltron SHC Mini-Tank Brochure
Adobe PDF Format
Stiebel Eltron SHC 2.5 Mini Tank Customer Questions & Answers
Stiebel Eltron SHC 2.5 Mini Tank Reviews
Stiebel Eltron 2.5 mini tank heater (2.5 gallons)


Great product. Saved us on our electric bill big time as we now don\'t have to wait for hot water to circulate from the main 40 gal water tank in the basement. We installed another one in the shop for clean up there.Very pleased with the unit. - Maddison
Stiebel Eltron 2.5 Tankless water heater - Point of service


Easy to handle, no problems so far. Two months. Still requires a leak pan and drain to be installed by code. - Bernard Chip Bowness

---
Other Mini Tank (SHC) Series Reviews
A great purchase!


A brand new house, but one where they didn\'t think about how long hot water takes to get to the kitchen. This is the most compact unit I could find to fit in the sink base. Super easy installation: a couple of water lines and an electrical plug. Now instant hot water, and plenty of it! If you\'re thinking of buying this unit, stop thinking and DO IT! You\'ll wonder why you waited so long. - David U
Stiebel Eltron SHC 4 Mini Tank water heater.


I love it. I now have hot water in my kitchen after 3 seconds instead of 3-4 minutes, as the hot water heater is so far away. It heats very fast, so, I probably could have used the 2 gallon one which would have taken less space. \r\ni am so happy to have hot water quickly. You have no idea what a nuisance it is to have to run 2 gallons to get hot water and then when it is off for 10 minutes you have to do it again. Thank you to Jessie from Stiebel For her help and guidance with finding the one which would work in my house with my wiring. - Toni Loo


Stiebel Eltron is:


All Stiebel Eltron Tempra Trend tankless water heaters are ETL Listed in the USA and Canada, ensuring they conform to all applicable safety standards.

All Stiebel Eltron Tankless Water Heaters are tested and certified by WQA against NSF/ANSI 372 for "lead free" compliance.
Do You Have Hard Water?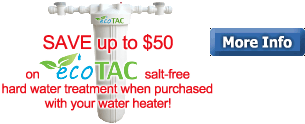 If your water hardness trends above 7 grains per gallon (GPG) or 120 mg/l (ppm), you should consider hard water treatment prior to your tankless water heater.
If your hardness exceeds 12 GPG or 200 mg/l (ppm), hard water treatment is strongly recommended.
Hard water treatment helps maintain performance and efficiency, ensures optimal water flow and pressure, and protects your heater from pre-mature failure due to mineral build-up inside the heating module and other components.