Water Quality & Tankless Water Heaters
learn about the effects of hard water and other water quality issues on the performance of your tankless water heater
Learn More About Water Quality &
Tankless Water Heaters:
All types of water heaters can be affected by water quality problems, particularly hard water.
Hard water minerals (primarily calcium and magnesium) rob your water heater of its energy efficiency by building up on its heating elements and heat exchanger surfaces. They effectively provide a layer of insulation between the heating surface and the water, thereby reducing heat transfer and putting extra stress on the heating element. Over time, the accumulation of minerals will also reduce water flow and lead to "hot spots". These "hot spots" cause premature failure of the heat exchanger which results in costly repairs not covered under manufacturer warranties.

These images show hard water scale build-up on various water heating elements.
The thick coating on these elements not only reduced water heater performance (heat transfer) but also resulted in pre-mature element failure.
For this reason, many water heater manufacturers require or recommend the treatment of hard water for the customer's warranty coverage to remain valid. Here are some comments from various manufacturers:
"Water hardness levels in excess of 12 grains per gallon entering the heater will significantly
affect its performance and void your warranty."
Noritz Tankless Water Heater FAQ
"Hard water, unless treated, will cause scaling or liming of the Rinnai heat exchanger."
Rinnai Tankless Water Heater Owner's Manual. Rinnai goes on to recommend treatment where hardness exceeds 200 ppm (mg/l) or 11.7 grains per gallon.
Using an effective hard water treatment system will ensure optimal energy efficiency, maintain pressure and flow performance, and prevent pre-mature failure of your water heater, thus extending its life by many years. Moreover, the benefits of hard water mineral scale protection will be applied throughout your home. You will notice less mineral build-up in your dishwasher, clothes washer, showerheads, faucets and shower doors too.
Hard water treatment will provide benefits where the hardness of the water exceeds 7 grains per gallon or 120 ppm (mg/l), and is strongly recommended where the hardness exceeds 12 grains per gallon or 200 ppm (mg/l).
Benefits of Hard Water Treatment:
Protects the investment in your new water heater
Ensures optimal energy efficiency
Maintains water pressure and flow rates
Prevents pre-mature heating element / heat exchanger failure
Maintains status of manufacturer warranty
There are number of technologies available to treat hard water, including conventional water softeners, Template Assisted Crystallization (TAC), electronic/magnetic water conditioners, polyphosphate filters, and reverse osmosis. Some of these technologies, including conventional water softeners and polyphosphate (Siliphos) filters are not very environmentally friendly, and others are either not very effective or not practical for this type of application (electronic/magnetic water conditioners and reverse osmosis). Accordingly, we recommend Template Assisted Crystallization (TAC) technology as the preferred method of hard water treatment to protect a tankless water heater.
Recommended Hard Water Treatment:
ecoTAC Protector 6
6 GPM Hard Water Treatment
for Tankless Water Heaters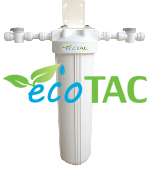 for flow rates up to 6 gallons per minute - salt-free, environmentally-friendly filter designed to reduce the harmful effects of hard water on your tankless water heater
Starting at US$309.95
- More Info -
ecoTAC Protector 4
4 GPM Hard Water Treatment
for Tankless Water Heaters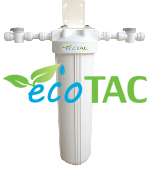 for flow rates up to 4 gallons per minute - salt-free, environmentally-friendly filter designed to reduce the harmful effects of hard water on your tankless water heater
Starting at US$269.95
- More Info -