Stiebel Eltron DHC-E 12/15-2 Plus Point-of-Use
Tankless Water Heater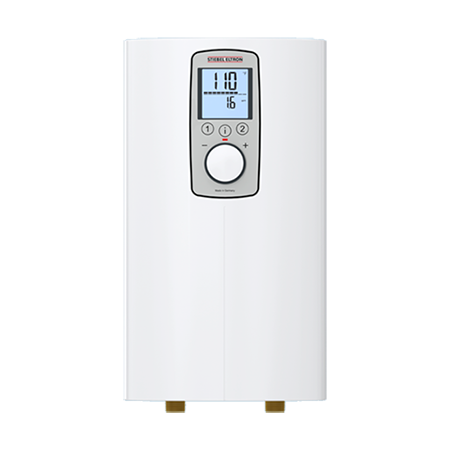 Description
Specifications
Installation / Manual
FAQ
Reviews
Validations
Hard Water
Maximum Flow Rate in Gallons Per Minute at 105F Output Temp.
Incoming Water Temp:
Flow Rate (GPM)
40F
1.3 / 1.5 GPM
45F
1.4 / 1.6 GPM
50F
1.5 / 1.8 GPM
55F
1.6 / 2.0 GPM
60F
1.8 / 2.2 GPM
65F
2.0 / 2.4 GPM
70F
2.3 / 2.8 GPM
75F
2.7 / 3.3 GPM
The Stiebel Eltron DHC-E Plus series tankless water heaters are the most advanced point-of-use tankless water heaters on the market today. The DHC-E 12/15-2 Plus features both Stiebel's Direct Coil™ heating system and the same industry-leading thermostatic temperature control and flow and temperature based power modulation technology found in their flagship Tempra whole house heaters. Direct Coil™ heating system's proven and trouble-free technology self-cleans for increased hard water resistance while offering a faster heat-up time and lower latent heat retention. Advanced microprocessor technology ensures that the water temperature never deviates from the set point.
By producing hot water on demand only as it is being used, the DHC-E 12/15-2 Plus is extremely energy efficient. A sophisticated water flow sensor recognizes when hot water is being used and when it has been turned off, so the unit will activate and deactivate automatically so it only runs when you are actually using water. This eliminates standby thermal heat losses associated with traditional tank type water heaters. Accordingly, you can expect to see a significant cost reduction over the operating cost of a conventional water heater.
Direct Coil™ heating system's proven and trouble-free technology self-cleans for increased limescale resistance
Switchable kW power output means each model can cover more applications
Heats water on demand, for endless hot water as long as it is needed but model size must be carefully matched to the application for proper operation
Ideal for many commercial applications including: bathrooms, break rooms, utility sinks, or a single shower
Electronic self-modulation technology ensures the least amount of electricity needed is used
Sleek European design is considerably smaller than a tank, requires no venting, and allows space-saving installation close to the point-of-use
Direct Coil™ heating system provides fast heat-up and response
Advanced Flow Control™ ensures constant water temp no matter what - no cold water "surprises"
Large backlit interactive display shows temperature, flow rate information, cost savings calculator, and more
2 temperature preset buttons for quick adjustments
Stiebel Eltron DHC-E 12/15-2 Plus Specifications
| | |
| --- | --- |
| Thermostatically Controlled? | Yes, temperature control and full power modulation based on flow rate and incoming water temperature. |
| Heating System? | Direct Coil™ |
| KW | 14.4 or 12 KW @ 240v / 10.8 or 9 KW @ 208v |
| Voltage: | 208 - 240 volts / single phase / 50 - 60 Hz |
| Max. Amps: | 60 or 50 AMPS @ 240v / 52 or 43.3 AMPS @ 208v |
| Breakers Required:* | 1 x 60 AMP breaker(depends on local codes) |
| Wiring:* | Minimum #6 AWG Copper (depends on local codes) |
| Dimensions: | 14.12 x 8 x 4.31" (36 x 20 x 11 cm) |
| Weight: | 5.5 lbs (2.5 KG) |
| Pipe Fittings: | 1/2" NPT |
| Energy Efficiency: | 99%+ |
| Activation Flow Rate: | 0.264 GPM / 1.0 LPM |
| Max. Water Pressure: | 145 psi |
| Warranty: | Manufacturer's 3 Year Warranty |
| Safety: | ETL Listed (US / Canada) |
| Protection: | microprocessor-based thermostatic temperature control (flow rate and temperature modulating) with thermal hi-limit cut-out switch |
* Breaker size and wire gauge must meet all applicable local, state, provincial, and national electrical codes for your area - these are only guidelines that will apply to most installations. Please consult your electrician for more details.

Stiebel Eltron DHC-E Plus Tankless Brochure
Adobe PDF Format

Stiebel Eltron DHC-E Plus Tankless Installation Guide
Adobe PDF Format
Stiebel Eltron DHC-E 12/15-2 Plus Customer Questions & Answers
There are currently no reviews for this product. Be the first to
write a review.
Stiebel Eltron is:


All Stiebel Eltron Tempra Trend tankless water heaters are ETL Listed in the USA and Canada, ensuring they conform to all applicable safety standards.

All Stiebel Eltron Tankless Water Heaters are tested and certified by WQA against NSF/ANSI 372 for "lead free" compliance.
Do You Have Hard Water?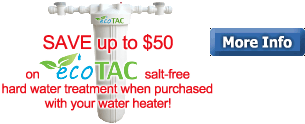 If your water hardness trends above 7 grains per gallon (GPG) or 120 mg/l (ppm), you should consider hard water treatment prior to your tankless water heater.
If your hardness exceeds 12 GPG or 200 mg/l (ppm), hard water treatment is strongly recommended.
Hard water treatment helps maintain performance and efficiency, ensures optimal water flow and pressure, and protects your heater from pre-mature failure due to mineral build-up inside the heating module and other components.