Stiebel Eltron Tempra 20 Trend - #239215
Electric Tankless Water Heater
Join the trend of switching to electric tankless and start saving today!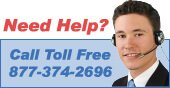 Let us help you evaluate if tankless is right for you or help you select the best model for your application. Call us now...
---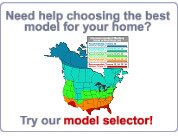 ---
See an internal view of the Stiebel Eltron tankless water heater - learn how it works and what makes it superior to the competition.
(Click the picture)
---


Stiebel Eltron Tempra Series Brochure
(Adobe PDF)
---


Electrical Requirements & Installation Information

5.0

out of 5 stars (16
reviews)
Review this product
Stiebel Eltron

Tempra 20 Trend - 239215
MSRP: US$

784.00

Our Reg. Price: $

599.00

Sale Price:

US

$

556.00

You save: $228.00

Found a Lower Price?
Request a Price Beat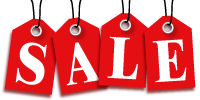 19.2 kW's of Power
Thermostatically Controlled
Requires 125 Amp Service
The Stiebel Eltron Tempra 20 Trend
, with a maximum power output of 19.2 KW, is designed for whole house applications in regions where the incoming water temperature is above 60°, and is therefore suitable as a whole house water heater in the southern U.S. and in some warmer northern climates.
It is also a popular choice for summer use vacation properties in northern climates where the electrical service does not permit the installation of a larger model. Furthermore, it is frequently used as a point-of-use heater where more demanding flow rates are required.
Like all Tempra Series tankless water heaters, the Tempra 20 features true microprocessor-controlled temperature regulation and dial selector which allows you to set the desired output water temperature at any level between 68 and 140F (20 and 60C).
It is one of the only tankless water heaters on the market that features a true thermostatic temperature control and full power-modulation based on both the incoming water temperature and the water flow rate.
The Tempra 20 Trend will automatically adjust its power output to accommodate changes in the incoming water temperature and flow rate so it can precisely maintain the desired output temperature. The result is the most precise temperature control of any tankless water heater on the market today!
The trend towards increased energy efficiency is here to stay with the Tempra 20. Join the Tempra trend today.
Maximum Flow Rate in Gallons Per Minute at 105°F Output temp
Incoming Water Temp:
Flow Rate (GPM)
40°F
2.0 GPM
45°F
2.2 GPM
50°F
2.4 GPM
55°F
2.6 GPM
60°F
2.9 GPM
65°F
3.3 GPM
70°F
3.7 GPM
75°F
4.4 GPM
* This chart is based on 240v input.
Please review the Stiebel Eltron Tempra Brochure
for temp rise data at 208v input.
Do You Have Hard Water?
If your water hardness trends above 7 grains per gallon (GPG) or 120 mg/l (ppm), you should consider hard water treatment prior to your tankless water heater. If your hardness exceeds 12 GPG or 200 mg/l (ppm), hard water treatment is strongly recommended.

Hard water treatment helps maintain performance and efficiency, ensures optimal water flow and pressure, and protects your heater from pre-mature failure due to mineral build-up inside the heating module and other components.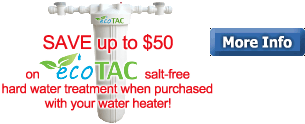 Stiebel Eltron Tempra 20 Trend Specifications
Thermostatically Controlled?
Yes, temperature control with full power modulation based on flow rate and incoming water temperature.
KW
19.2 KW @ 240v / 14.4 KW @ 208v
Voltage:
208 - 240 volts / single phase / 50 - 60 Hz
Max. Amps:
80 AMPS @ 240v / 70 AMPS @ 208v
Breakers Required:*
2 x 40 AMP (240 volt, double pole breakers)
Wiring:*
Minimum 2 x #8 AWG Copper
Dimensions:
16.6 x 14.5 x 4.6" (42.0 x 36.8 x 11.7 cm)
Weight:
15.4 lbs (7.3 KG)
Pipe Fittings:
3/4" NPT
Energy Efficiency:
99%+
Activation Flow Rate:
0.50 GPM / 1.9 LPM
Max. Water Pressure:
150 psi (tested to 300 psi)
Warranty:
7 years against leakage / 3 years against defects in workmanship & materials
Safety:
ETL Listed (US & Canada) - meets all applicable standards, including ANSI/UL 499 (USA) and CSA-E335-1/3E-94 (Canada)
Protection:
microprocessor-based thermostatic temperature control (flow rate and temperature modulating) with thermal hi-limit cut-out switch monitoring each heating module
GTIN:
0094922100641
* Breaker size and wire gauge must meet all applicable local, state, provincial, and national electrical codes for your area - these are only guidelines that will apply to most installations. Some codes require use of electrical sub-panel for installation, especially when heater is not mounted within line-of-sight of the main electrical panel. Wiring should be sized to maintain a voltage drop of less than 3% under load. Please consult your electrician for more details.
Please note: A minimum 125 AMP household electrical service is highly recommended and will likely be required to install this model. If you are unsure of your electrical capacity in your home, please consult your electrician or contact us for assistance before ordering.
Stiebel Eltron Tempra 20 Trend - 239215 Reviews
Hot water


We love our Stiebel Tempra 20. Have paired it with a Hague water softener and are very pleased with the result. - Sandpiper
tankless hot water heater


I got it very fast and we replaced our old one of many years, It works great, no problems. - john c

---
Other Tempra Trend Series Reviews
Tankless water heater


Good product, had previously purchased from Tankless in Florida, which worked well for 8 years. Installation not to difficult, following the instructions. I chose product for good price and European experience with good workmanship. hope this one will last long. - Roger
Tempra 29 Tankless Heater


Simple to install (already had electrical in place), performs as advertised. So far, very pleased. - Bob P
Steibel 15


Installed the unit according to the directions and it did not work at first. I think because the water pressure needed time to reach normal in the unit. It now works fine to heat our master bath fixtures - Stephen K
E Tankless Water Heater


Love it, works great & company very helpful when ordering. - Janice
Great heater


When my home was built 25 years ago, this was the hot water heater. You might be thinking that a hot water heater should justifiably last an easy 25 years. I have well water, and 1 filter before the heater. This statement says more. I absolutely had to get the same one. It is a little taller so a tiny bit of plumbing and tada, easy to install. I am pretty old fashioned so the extra options are not important to me, but all I did was set it to 110 degrees with the dial, done. In 25 years I will get another if it is needed. I had a GE tank break after 2 years and the insurance stuck it to me. Personally I am so very sick of garbage on the market. This unit in my home has a proven track record and I am all about proof. - Steve A
stiebel eletron tempra 15 trend tankless water heater


Heater is working flawlessly. Excellent quality. Very good instructions for installing heater. The unit is for one full bathroom (tub and sink). I live in southern Maryland and the water heater keeps the water a constant 115 degrees at 2.8GPM with no issues. Thanks - Vincent Beatrez
Finally we have UNLIMITED Hot Water, Thank you e-tankless!


Our water heater is in the garage and our Master Bath is on the other side of the house. We have a Taco recirc pump but our 66 gallon water heater tank couldn't provide enough hot water for long relaxing showers. We bought the 29B (refurb) from e-Tankless. It looked brand new, came in the original packaging. It was fairly expensive ($2,100 USD) to run new 125A service to support this water heater but I am so glad we did. We now have endless hot water! I would recommend buying the isolation valve kit so you can easily flush the unit annually. I would highly recommend e-tankless! - Todd Simmons
Worth it


My old waterheater was in my attic which daily made me nervous to have 50 gallons that could leak at any time. I upgraded to tankless and I am very impressed the hot water works better much better now. - Shawn Lawson
Tankless


Tankless So far it's working great. If it goes well I will order four more for my other units - Mario Tridente
Excellent solution for on demand hot water


This purchase is a replacement for the previous model of the same specs we had installed in our condo about 15 years ago. The electrical elements do wear out in about 15 years, so we installed a replacement unit. The new unit is smaller and has a better screen than the old one. It works wonderfully, and we are just as happy with this one as we were with its predecessot. -
Owner


excellent product. easy to operate, user friendly - Chep Hon
Replacing on older Steibel Eltron unit


After about 15 years of faithful service my older model Steibel Ultron tankless water heater stopped heating the water effectively (lime scale). This new unit (Tempra 29) is the newest edition of the prior model. No issues installing although the size and spacing of the water inlets/outlets differed meaning a little extra work. New unit works like a charm now - Jeff
Great Replacement


We had another manufacturers units for 10 or more years. Those units had plastic heat chambers that both began to leak at a mold seam. I chose the Steibel unit primarily because of the copper tank. The instillation was very easy and the single unit is able to keep up with our DHW needs. My only comment is that I wish E-Tankless Water Heaters had offered a faster shipping method. I would have gladly paid extra to have the unit faster than the 2 weeks it took to get it from BC to NB. I should have inquired about shipping options. We were looking at Christmas without hot water, thankfully the unit arrived on the 23rd and I was able to install it the next day. Could not be happier with the overall experience and product. - Richard Harris
Stiebel-Eltron Tempra 29B


Great price and great service. I installed it right away and it has been working flawlessly for a month now. - Master DIYer


| | | | | | |
| --- | --- | --- | --- | --- | --- |
| All Stiebel Eltron Tempra and Tempra Plus tankless water heaters are ETL Listed in the USA and Canada, ensuring they conform to all applicable safety standards. | | All Stiebel Eltron Tankless Water Heaters are tested and certified by WQA against NSF/ANSI 372 for "lead free" compliance. | | Comprehensive 7 year manufacturer's warranty against leakage / 3 year against defects in workmanship & materials. See warranty for details | Stiebel Eltron is: |