Stiebel Eltron Mini™ 4-2
Point-of-UseTankless Water Heater
or

Choose Refurbished

Limited Quantity of Factory Refurbished units available.
Save an additional $80.00!
- more info -
US$99.00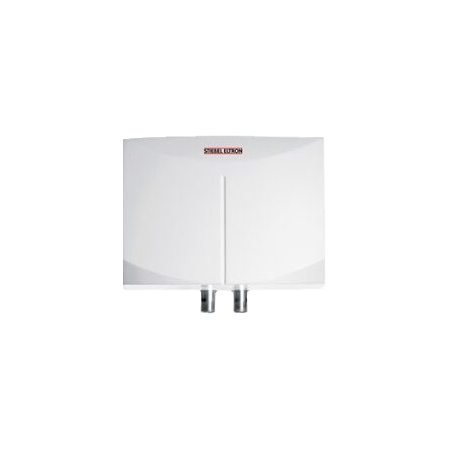 Description
Specifications
Installation / Manual
FAQ
Reviews
Validations
Hard Water
Maximum Flow Rate in Gallons Per Minute at 105F Output Temp.
Incoming Water Temp:
Flow Rate (GPM)
Not recommended below 65F
65F
0.60 GPM
70F
0.68 GPM
75F
0.79 GPM
80F
0.95 GPM
The Stiebel Eltron Mini™ Series tankless water heaters are economical, ultra-compact, attractive point-of-use tankless water heaters designed for consistent, low-flow, point-of-use applications. The Mini Series is most suited to applications which possess a relatively constant flow rate. If the flow rate of your application is likely to fluctuate due to varying water demands or varying water pressures, etc., we recommend that you consider a DHC-E 8/10 tankless water heater instead as they include thermostatic control and flow-based power modulation technology.
Due to its compact size, the Stiebel Eltron Mini 4-2 easily fits directly under a sink or an adjacent cupboard or closet, so it delivers hot water straight to the sink with almost no delay. By locating the heater right next to where the hot water will be used, you can also virtually eliminate thermal heat loss which is commonly associated with long pipe runs. If the Mini 4-2 is able to supply all of the hot water needs for the entire room, you can also eliminate the need to run a hot water line all the way from the main central water heater in new construction applications.
The Mini 4-2 is extremely energy efficient as it produces hot water on demand only as it is required. A sophisticated water flow sensor recognizes when hot water is being used and activates and deactivates the unit automatically so it only runs when you are actually using water. This eliminates standby thermal heat losses often associated with traditional tank style water heaters. Due to this, you can expect to see a significant cost reduction over the operating cost of a conventional water heater.
The Mini 4-2 ships with a 0.66 GPM pressure compensating flow-reducer / aerator that must be installed. All Mini Series tankless water heaters are equipped with a safety high-limit with manual reset.
The Stiebel Eltron Mini 4-2 is not recommended for whole house use. For more information on whole house models, see our Stiebel Eltron Tempra Series Whole House Tankless Water Heaters.
3.5 kW's of Power
Flow Control Activated
Ultra Compact Size
240v
Stiebel Eltron Mini 4-2 Specifications
@ 240 volts
@ 208 volts
KW
3.5 KW
2.6 KW
Voltage:
208 to 240 volts / single phase / 50 - 60 Hz
Max. Amps:
15.2 AMPS
12.6 AMPS
Breakers Required:*
1 x 15 AMP breaker
Wiring:*
Minimum #14 AWG Copper
Minimum Water Resistivity
2795 ohm x in / 1100 ohm x cm
Degree of protection according to IEC 529
IP 24
Dimensions (H x D X W):
6.5 x 3.25 x 7.5" (16.5 x 8.2 x 19 cm)
Weight:
3.4 lbs (1.6 KG)
Pipe Fittings:
for 3/8" O.D. flex connector
Energy Efficiency:
99%+
Activation Flow Rate:
0.40 GPM / 1.5 LPM
Max. Water Pressure:
150 psi
Warranty:
Manufacturer's 3 Year Warranty
Safety:
ETL Listed (US / Canada)
Protection:
thermal hi-limit cut-out switch
* Breaker size and wire gauge must meet all applicable local, state, provincial, and national electrical codes for your area - these are only guidelines that will apply to most installations. Please consult your electrician for more details.

Stiebel Eltron Mini 2 Tankless Installation Guide
Adobe PDF Format

Stiebel Eltron Mini 2 Tankless Brochure
Adobe PDF Format
Stiebel Eltron Mini 4-2 Customer Questions & Answers
Other Mini Tankless Series Reviews


I am very pleased with this product.. Works great for the purpose in which I bought it. Great size. - Larry Croff
E-tankless


The Stiebel Elttron tankless water heater is a great addition to our house. It really does save energy costs; we can see it in our lower utility bills. And I thank e-tankless for their prompt, efficient mailing of the unit. - Triumpho Richard
Works well


It heated the water - Eric Stephens


Stiebel Eltron is:


All Stiebel Eltron Tempra Trend tankless water heaters are ETL Listed in the USA and Canada, ensuring they conform to all applicable safety standards.

All Stiebel Eltron Tankless Water Heaters are tested and certified by WQA against NSF/ANSI 372 for "lead free" compliance.
Do You Have Hard Water?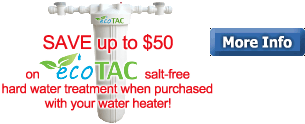 If your water hardness trends above 7 grains per gallon (GPG) or 120 mg/l (ppm), you should consider hard water treatment prior to your tankless water heater.
If your hardness exceeds 12 GPG or 200 mg/l (ppm), hard water treatment is strongly recommended.
Hard water treatment helps maintain performance and efficiency, ensures optimal water flow and pressure, and protects your heater from pre-mature failure due to mineral build-up inside the heating module and other components.