Stiebel Eltron Tempra Tankless Water Heater Installation
Installation of a tankless water heater is NOT considered a "do-it-yourself" project. However, the installation of a Stiebel Eltron electric tankless water heater is relatively simple and can be done by any licenced plumber and electrician. Your contractor does not require any special training or previous experience with tankless water heaters. Finding an electrician and plumber in your area who can look after the installation of your new Stiebel Eltron tankless water heater for you should not be difficult. If your installer has any questions regarding the installation, he or she can contact us for assistance at any time.
Stiebel Eltron Tempra/Tempra Plus Tankless
Water Heater Owner's Manual and
Installation Guide
(in pdf format)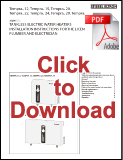 For Technical assistance with a newly installed unit, please contact us as follows:
E-Tankless Water Heaters Corp.
U.S.A./Canada Toll Free 1-877-374-2696
Phone: (250) 374-2690
For warranty service, please contact the manufacturer directly as follows:
Stiebel Eltron, Inc.
17 West Street
West Hatfield, MA 01088
Toll Free: 1-800-582-8423
---
Electrical Requirements for Stiebel Eltron Tempra Series Tankless Water Heaters:
Before purchasing a Stiebel Eltron, or any other electric tankless water heater, please ensure that your home has sufficient electrical capacity for your desired model, or that you have taken note of any upgrades that may be required.
Please see the following chart for electrical requirements:
Model
Recommended
Breaker
Maximum Amperage
@ 240 V
Maximum Amperage
@ 208 V
Recommended Household
Electrical Service
Recommended Minimum
Wire Gauge
Tempra 36 / 36 Plus
3 x 50 AMPS *
150 AMPS
132 AMPS
300 AMPS
3 x #8 AWG*
Tempra 29 / 29 Plus
3 x 40 AMPS *
120 AMPS
105 AMPS
200 AMPS
3 x #8 AWG*
Tempra 24 / 24 Plus
2 x 50 AMPS *
100 AMPS
88 AMPS
150 AMPS
2 x #8 AWG*
Tempra 20 / 20 Plus
2 x 40 AMPS *
80 AMPS
70 AMPS
125 AMPS
2 x #8 AWG*
Tempra 15 / 15 Plus
2 x 30 AMPS *
60 AMPS
52 AMPS
100 AMPS
2 x #10 AWG*
Tempra 12 / 12 Plus
1 x 50 AMPS *
50 AMPS
44 AMPS
100 AMPS
1 x #8 AWG*
* Breaker size and wire gauge must meet all applicable local, state, provincial, and national electrical codes for your area - these are only guidelines that will apply to most installations. Some codes require use of electrical sub-panel for installation, especially when heater is not mounted within line-of-sight of the main electrical panel. Wiring should be sized to maintain a voltage drop of less than 3% under load. Please consult your electrician for more details.
The above specifications are only guidelines. If your home is already equipped with a large number of electrical appliances, you may require a larger electrical service than the one recommended above. Please consult an electrician before placing an order.

If your home does not have the minimum household electrical service as specified for your desired model, you can still purchase a Stiebel Eltron tankless water heater, however, upgrades to your electrical service will likely be required. It is recommended that you consult your certified electrician for a quote, prior to purchasing.

Please be aware that uninstalled units returned due to a home that has inadequate electrical service may subject to a re-stocking fee. Please see our POLICIES page for more details.