Stiebel Eltron Flow-Aide Water Heater De-Scaling Kit (#540000)
remove hard water minerals and restore the efficiency and flow performance of your water heater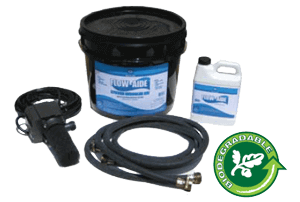 4.0

out of 5 stars (2
reviews)
Review this product
Stiebel Eltron

Flow-Aide De-Scaling Kit (#540000)

Stiebel Eltron's Flow-Aide water heater de-scaling kit is an ideal tool for the maintenance and restoration of any water heater. Over time, hard water minerals can accummulate inside your water heater, coating its heat exchange surfaces and reducing efficiency and flow performance. The Flow-Aide de-scaling kit removes these harmful deposits, protecting your water heater and extending its service life. Included in each kit:
biodegradable de-scaling solution (1 quart)
submersible pump (350 gallons per hour)
re-circulation bucket
3/4" connection hoses for quick hook up to most whole house water heaters

Excellent choice for all tankless water heaters and tank-type water heaters.
For ease of use, we recommend that you also purchase Stiebel Eltron's isolation valve kit. It is designed to make the hook-up of the de-scaling kit quick and simple.
Additional de-scaling solution sold separately.