Stiebel Eltron Tankless Water Heater Isolation Valve Kit (#540444)
isolation valve kit for all electric and gas tankless water heaters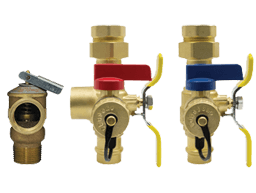 5.0

out of 5 stars (6
reviews)
Review this product
Stiebel Eltron

Isolation Valve Kit (#540444)

Isolation valves make it easy to service your tankless water heater and provide a convenient shut-off point to isolate the heater for cleaning fluid circulation and other maintenance.
Kit includes lead-free inlet and outlet isolation valves and pressure relief valve.
Highly recommended for customers purchasing the Stiebel Eltron Flow-Aide De-scaling Kit #540000.
Stiebel Eltron Isolation Valve Kit (#540444) Reviews
Brass Isolation KIt #540444


Definitely makes for a clean installation and visually appealing! So glad we went with E-Tankless recommendation and used the Stiebel Eltron Brass Isolation Valve Kit for our application! - Kathy H.
Exactly What I Needed


After learning that my A.O. Smith tankless water heater needed to be flushed annually to remove scale from the heater and piping, I tried to figure out what valves and fittings I would need from local hardware stores. Fortunately, I stumbled onto the Stiebel Eltron isolation valve kit at E-Tankless Water Heaters. It was exactly what I was looking for and I was able to get it UPS overnight... from Canada! The quality is excellent and I should have no problems using it next September. - Robert Crocheron
Leaky Faucit


This product worked well and solved my leak issue. - Roger Buchholtz
Tankless Water Heater Isolation Valve Kit


Excellent, quality product. Worked well for the installation of the Siebel Eltron Tempra 24 Plus WH. So glad I spent the extra $ for this product. - Robert J
Glad I tried this


Exact replacement for what I needed. Make maintenance soooooo much easier - Larry
Lead free Brass Isolation valve kit


another great \"must have\" product when installing the Steibel tankless water heater for a smooth simple successful installation. - Angela S