Stiebel Eltron Tempra 24 Plus - #239222
or

Choose Refurbished
& Save Now!!
Limited Quantity of Factory Refurbished units available.
Save an additional $160.50!
- more info -
US$523.50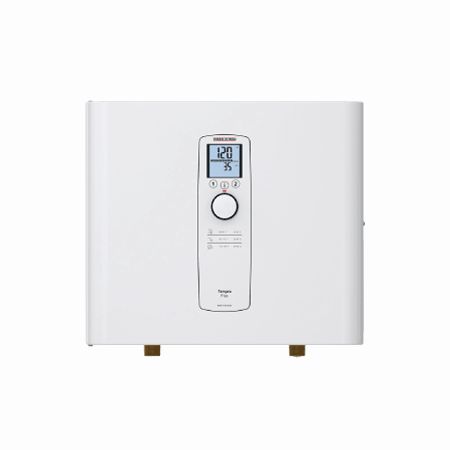 Description
Specifications
How it Works
Installation / Manual
Reviews
FAQ
Validations
Hard Water
Maximum Flow Rate in Gallons Per Minute at 105°F Output temp
Incoming Water Temp:
Flow Rate (GPM)
40°F
2.5 GPM
45°F
2.7 GPM
50°F
3.0 GPM
55°F
3.3 GPM
60°F
3.6 GPM
65°F
4.1 GPM
70°F
4.7 GPM
75°F
5.4 GPM
Our most popular heater for whole house applications, the Stiebel Eltron Tempra 24 Plus electric tankless water heater
is a powerful 24 KW heater and is an excellent choice for most whole house applications in the Northern U.S., Canada, and other regions where the incoming water temperature can drop below 45° F. The Tempra 24 Plus is also frequently used in warmer southern climates for applications requiring higher flow rates of up to 5 gallons per minute (large Roman-style or jacuzzi tubs, simultaneous showers, etc.), as well as for commercial applications.
Like all Tempra Plus Series tankless water heaters, the Tempra 24 Plus features true microprocessor-controlled temperature regulation as well as a convenient digital temperature display and dial selector which allows you to set the desired output water temperature at any level between 68 and 140F (20 and 60C). It is one of the only tankless water heaters on the market that features a true thermostatic temperature control and full power-modulation based on both the incoming water temperature and the water flow rate. The Tempra 24 Plus will automatically adjust its power output to accommodate changes in the incoming water temperature and flow rate so it can precisely maintain the desired output temperature.
The Tempra 24 Plus also features Stiebel Eltron's exclusive dynamic Advanced Flow Control technology. This technology automatically adjusts the flow of water when the unit's sensors detect that the flow demand is exceeding the heater's capacity. This feature is particularly useful in cold climates and other applications where the electrical service size does not permit the installation of a larger model and it may be desirable to handle occasional high flow demands. It is also desirable where high output temperatures are required for temperature critical applications (commercial dishwashers, etc.) and where flow rates are not always predictable.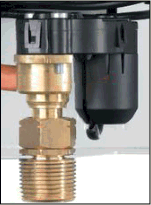 Dynamic Flow Control Technology
exclusive to Tempra Plus tankless water heaters!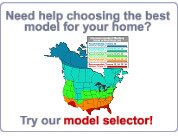 Simply stated, the Stiebel Eltron Tempra Plus Series electric tankless water heaters feature the most precise temperature control of any tankless water heater on the market today!
Digital Display
Flow Control Technology
24 kW's of Power
Thermostatically Controlled
Requires 150 Amp Service
Stiebel Eltron Tempra 24 Plus Specifications
Thermostatically
Controlled?
Yes, digital temperature control and full power modulation based on flow rate and incoming water temperature.
Advanced Flow
Control Technology?
Yes, dynamic flow control technology automatically adjusts the flow of water when the unit's sensors detect that the flow demand is exceeding the heater's capacity. This feature is exclusive to Stiebel Eltron Tempra Plus Series tankless water heaters!
Preset Temperature Memory Buttons:
Yes
Flow Rate Monitor:
Yes
Energy Monitor Showing Cost Savings:
Yes
Hinged Case:
Yes
Power (KW):
24 KW @ 240v / 18 KW @ 208v
Voltage:
208 - 240 volts / single phase / 50 - 60 Hz
Max. Amps:
100 AMPS @ 240v / 88 AMPS @ 208v
Breakers Required:*
2 x 50 AMP (240 volt, double pole breakers)
Wiring:*
Minimum 2 x #8 AWG Copper
Dimensions:
16.6 x 14.5 x 4.6" (42 x 36.8 x 11.7 cm)
Weight:
15.4 lbs (7.3 KG)
Pipe Fittings:
3/4" NPT
Energy Efficiency:
99%+
Activation Flow Rate:
0.50 GPM / 1.9 LPM
Max. Water Pressure:
150 psi (tested to 300 psi)
Max. Output Temperature:
140F (60C)
Max. Input Temperature:
131F (55C)
Warranty:
7 years against leakage / 3 years against defects in workmanship & materials
Safety:
ETL Listed (US & Canada) - meets all applicable standards, including ANSI/UL 499 (USA) and CSA-E335-1/3E-94 (Canada)
Protection:
microprocessor-based thermostatic temperature control (flow rate and temperature modulating) with thermal hi-limit cut-out switch monitoring each heating module
GTIN:
0094922100672
* Breaker size and wire gauge must meet all applicable local, state, provincial, and national electrical codes for your area - these are only guidelines that will apply to most installations. Some codes require use of electrical sub-panel for installation, especially when heater is not mounted within line-of-sight of the main electrical panel. Wiring should be sized to maintain a voltage drop of less than 3% under load. Please consult your electrician for more details.
How it works
The Stiebel Eltron electric tankless water heater is a marvel of technology and engineering - overflowing with technology, yet packaged in an intelligent, simple design. It heats water entirely on demand, only when it is needed.
When a hot water faucet is turned on and the water begins to flow, a sophisticated flow sensor detects that hot water is being demanded and turns the water heater on. Instantaneously, a series of sensors gather information about the flow rate of the water and the incoming water temperature. This information is sent to a microprocessor which calculates the amount of power needed to heat the water to the temperature set point. The water flows through the internal heating modules and exits the unit at the desired temperature. The start-up process takes a couple of seconds. A convenient thermostatic control on the front of the unit allows the homeowner to select an output temperature between 86 and 140F (30 to 60C) [Note: some models are designed for maximum output of 125F (52C)].
The sensors continue to monitor the water flow rate and incoming water temperature as long as the water is running. They constantly send data to the microprocessor so power to the heating elements can be modulated in accordance with changes in incoming flow rate and temperature. If, for instance, the flow rate increases because a second demand for hot water in the home is initiated, the unit will increase its power output to maintain a consistent and precise output temperature.
The tankless water heater will remain on until the hot water faucet is closed. As soon as the flow sensor detects that water has stopped flowing, the power to the unit is completely turned off.
All Stiebel Eltron Tankless Water Heater Tempra and Tempra Plus Series water heaters are manufactured in Germany in one of the world's only ISO-9001 certified tankless water heater manufacturing plants by a company that has been around since 1924!
Please see the internal views of the Stiebel Eltron Tankless Water Heaters below for more details. All of the models utilize the same parts and technology, but have varying sizes and numbers of heating modules.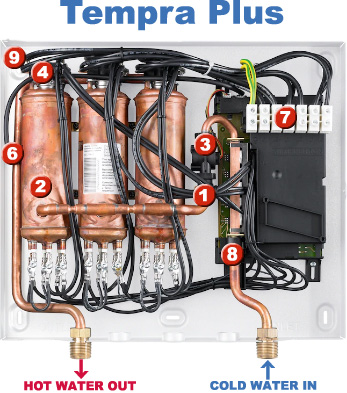 *Note: The
Tempra 36 Plus
and
Tempra 29 Plus
have 3 heating modules.
Electronic Control Module
Sophisticated microprocessor-controlled electronics adjust the power output of the heating modules based on flow rate and incoming water temperature to precisely regulate the output water temp.
Heating Module
The muscle of the system! A series of very high output heating modules (up to 3, depending on model) are used to heat the water as it passes through the heating chambers of the water heater. Each heating module features multiple heating elements. The heating chambers are manufactured with copper - no cheap plastics here!
Flow Sensor
A sophisticated flow rate sensor delivers important data to the microprocessor on a continuous basis - this data is used by the microprocessor to calculate the power level of the heating modules that is necessary to heat the water to the set temperature.
Safety Thermal cut-off
Safety first! Each heating chamber is protected by thermal limit switch, a back-up safety feature that will automatically turn off the heating module if a potentially unsafe output water temperature is reached. This reduces the risk of scalding injuries for children and the elderly, and protects the unit from damage if the microprocessor-based thermostatic control fails.
Temperture Selector
Set it and forget it - use the simple dial control to raise or lower the temperature setting. Tempra Plus series are equipped with a digital temperature setting display. The temperature can be set at any level from 86F (30C) & 140F (60C) [up to 125F or 52C on Tempra 12, 15, and 20]
(Not pictured).
Temperature Sensors
Working in conjunction with the flow sensor, a series of temperature sensors deliver important data to the microprocessor on a continuous basis so that the unit can acurately maintain the set output water temperature.
Wiring Block
Convenient terminal blocks are provided to ensure a quick, simple, and safe installation. Installation by a licensed electrician is highly recommended.
Flow Control
Exclusive to Tempra Plus models, the dynamic Advanced Flow Control system will adjust the flow rate of the water if the microprocessor detects that the flow rate exceeds the capacity of the system. The result is the most precise temperature control of any tankless water heater on the market today! Ideal for applications where simultaneous hot water applications occassionally exceed normal model flow rate capacities.
Sturdy Hinged Steel Case
All Stiebel Eltron Tempra and Tempra Plus Series water heaters are housed in a sturdy steel case with built-in wall mounting brackets. Many competitors use flimsy light-gauge aluminum cases or even plastics. Tempra Plus and Tempra Trend models feature a convenient hinged case for easy access.
Inlet Water Filter
The inlet water pipe includes a small screen filter that ensures that no debris is able to enter the system. This filter can be periodically cleaned for optimal flow performance.
Stiebel Eltron Tempra 24 Plus - 239222 Reviews
Love it.


Great improvement over a hot water heater. Nice to have all the hot water I want and save on bills. More space in garage. - Linda
2 Years Running Strong at the Farm


Don't hesitate to consider going tankless or if your wondering if gas is cheaper etc. I purchased this unit 2 years ago for my farm a to replace a 26 year old water tank. The price per month for electricity is lower and the water hot water is clean because it doesn't sit in the water tank! I installed this with 2 double pole 60 amp breakers and 6/2 wire.. Simple. - Anonymous
SO much better


Purchased this unit to replace another tankless water heater and the Tempra 24 Plus is SO much better. Installation was easy and the flow control on this unit makes all the difference. You can't go wrong with this unit as we have had great success for the 1.5 years we have been using it. - David
Tankless hotwater heater


Outstanding and allows us to use two or more hot water outlets at the same time. Two showers and a dishwasher all at the same time and everyone gets hot water - Ed G
Does what it was intended


Provides unlimited hot water for the house. It runs both showers for 30 plus min with no problem. - Jason H
Fantastic


Love it - Ron T
Stiebel Eltron Tempra 24 PLUS Tankless Water Heater


I am very pleased with the performance of my Stiebel Eltron Tempra 24 Plus Tankless Water Heater. It works well is efficient and the staff at E-Tankless were helpful and knowledgeable. I am super happy with my purchase and company service. - Debbie Walsh
Excellent!


This thing is amazing! We live in Indiana and it works perfectly. We set the water temperature to 125 and the water was MUCH hotter than our Tank-water heater could ever do, so we moved the temp down to 115 on the dial which literally takes seconds. Non-stop hot water. I have been recommending this to everyone! Takes up almost NO space. You need TWO 6/2 cables and TWO 50 AMP double-pole circuit breakers for the full 100 AMPs of power it may potentially pull, but we have never gotten anywhere close to that. We have saved 10% on our first energy bill. The system literally pays for itself. Spend the money, get the system. Its worth it. I would recommend that you have a water softener if you are getting this water heater. But according to the website, it is not needed. The only difficulty in installation would be that most homes do not have two double-pole 50 amp circuit breakers. These are by no means difficult to install but you should either ask an electrician friend for help, or google it. Works exactly like advertised. We got the Tempera 24 Plus. - Dane
Satisfied


This is very useful for customers with kitchen that does not have access to gas water heater-which entails coring a hole on the roof of the building. With this, you just install and enjoy. - Seema
Water heater


I have not installed the unit yet, but the service I received in ordering was excellent! She answered my questions and made the process easy. Thank you! - Erin
Stiebel Eltron Tempra 24 Plus Tankless Water Heater


I have not yet hooked up this water heater but I bought it because I own 2 others, same brand different generation. And they both work great, I have nothing but great things to say about them. I expect the same from this one! Thanks for a great product. - Esther Vinzant
Tankless Water Heater


Excellent product, first month i saved about 30 dollars on the power bill. Very easy to install and the water is just as hot as a hot water tank. I would recommend this product, very good investment. - Desmond Chaulk
Wheew


Works fine and we are pleased with the results. - Robert Littlefield
Exceptional Water


Carbon filter, water softener and tankless water heater. All operational and working fantastic. The cleanest, softest and continuous hot water I have ever experienced. It all fits in where my old rusty water tank was located. - Mark
Stiebel Eltron Tempra 24 Plus Electric Tankless Water Heater


Looks really good. Well packaged and with good instructions. I'm still working on the installation. Have a lot of other things to do before install and start up. Will update this once it's running. - John C L


Stiebel Eltron Tempra 24 Plus - 239222 Customer Questions & Answers

All Stiebel Eltron Tempra and Tempra Plus tankless water heaters are ETL Listed in the USA and Canada, ensuring they conform to all applicable safety standards.

All Stiebel Eltron Tankless Water Heaters are tested and certified by WQA against NSF/ANSI 372 for "lead free" compliance.

Comprehensive 7 year manufacturer's warranty against leakage / 3 year against defects in workmanship & materials. See warranty for details
Stiebel Eltron is:

Do You Have Hard Water?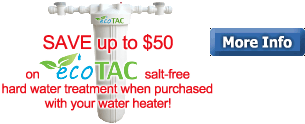 If your water hardness trends above 7 grains per gallon (GPG) or 120 mg/l (ppm), you should consider hard water treatment prior to your tankless water heater.
If your hardness exceeds 12 GPG or 200 mg/l (ppm), hard water treatment is strongly recommended.
Hard water treatment helps maintain performance and efficiency, ensures optimal water flow and pressure, and protects your heater from pre-mature failure due to mineral build-up inside the heating module and other components.
Please note: A minimum 150 AMP household electrical service is highly recommended and will likely be required to install this model. If you are unsure of your electrical capacity in your home, please consult your electrician or contact us for assistance before ordering.