Stiebel Eltron Tempra Tankless Water Heater Benefits
Savings of up to 50%
Because the Stiebel Eltron tankless water heater eliminates the "stand by" thermal loss of traditional tank type water heaters and operates on an as-needed basis only, you will save significant money on your hot water heating costs, even if you replace a natural gas water heater. The typical savings are up to 35% over natural gas water heaters and up to 50% over conventional electric tank water heaters.
Endless Hot Water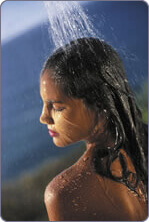 A properly-sized Stiebel Eltron tankless water heater can provide an unlimited supply of hot water for the entire house 24 hours a day. You could literally run your shower all day long and the water would never turn cold! Various models are available to suit the unique demands of every home. In some instances, flow rates of up to 8 gallons per minute can be achieved with the most powerful models! (using Tempra 36 model in warm climate areas).
Space Saving Size
Conventional tank heaters are bulky, consuming valuable square footage that could be put to better use. The tankless solution is the way to go if space is a problem. Who wouldn't want to make use of that valuable floor space, especially in codos, apartments, and other homes where space is at a premium?
Quality
Manufactured in Germany in a ISO-9001 quality certified factory by Stiebel Eltron, a company that has been in business since 1924, you can rest assured that decades of quality engineering and experience goes into every single Stiebel Eltron Tempra water heater. Backed by a comprehensive manufacturer's warranty and technical support department. Furthermore, you can expect a long life from your Tempra heater - Don't worry about your hard water. The Stiebel Eltron tankless water heater is engineered to function in all types of water. Eliminate the tank and you eliminate the possibility of mineral and sediment deposits. - the scourge of a conventional tank system.
Increased Safety
Each year approximately 3,800 injuries and 34 deaths occur in homes across North America due to scalding from overheated tap water. The majority of these accidents involve the elderly and children under the age of five. The U.S. Consumer Product Safety Commission urges all users to lower their tank water heaters to 120 degrees, however, this often results in cold showers after very limited use. The Stiebel Eltron tankless water heater supplies endless amounts of hot water at a specific temperature as set by the homeowner regardless of flow rate (we recommend a setting of 105 to 110F).
Environmentally Friendly
The generation of electrical power through the burning of fossil fuels or the construction of hydroelectric dams creates significant and lasting environmental degradation. The reduction of energy use in the household is the single greatest contribution that we as homeowners can make to reduce these impacts. It has been estimated that 20-30% of household power consumption is for domestic hot water. Tankless water heaters will help you reduce power consumption on your hot water heating costs by up to 50%. Furthermore, since a tankless water heater lasts up to 5 times longer than a conventional tank type water heater and is far smaller, you will also be reducing the burden on our landfills.