Falcon PTC34JG-18 Flexible / Corrugated Stainless Steel Connector
w/ John Guest Quick Connect
3/4" FNPT x 3/4" John Guest Quick Connect x 18" Long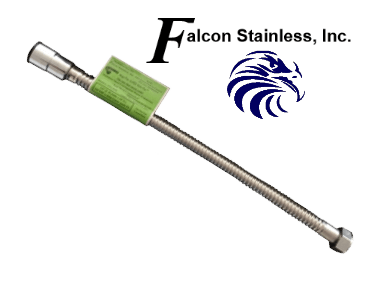 Falcon PTC34JG-18
(3/4" FNPT x 3/4" JG Quick Connect x 18" Long)
MSRP: US$

23.86

eachStarting at: US$

18.01

eachChoose Quantity:
Falcon's PTC34JG-18 flexible connector is ideal for both tankless and tank-type water heater installations. Saves installation time and money while providing superior flow performance as compared to traditional copper or braided flexible connectors. Ideal for use with Stiebel Eltron's Tempra and Tempra Plus Series whole house tankless water heaters. One end of the connector threads directly on to the 3/4" male fittings on the water heater, and the other has a John Guest brand quick connect fitting which is designed to work with standard 3/4 inch PEX and 3/4 inch copper water lines. Simply push the pipe into the fitting to create a water-tight seal! John Guest fittings can be removed by depressing the collar to unlock the fitting if ever required in the future. Simplicity, convenience, and fastest installation time!. Available individually or save when you buy a pack of 2!
Falcon flexible corrugated stainless steel water heater connectors offer a number of advantages over conventional hard plumbing, and other types of flexible connectors:
ease of installation saves significant time and labor cost
304 stainless steel - will not discolor, rust or corrode
134% more flow than standard braided connectors (17% more than flexible copper connectors and 31% more than other corrugated stainless steel flex)
can be quickly and easily disconnected for servicing, maintenance or seasonal removal
re-useable and re-bendable
minimal deformity in curvature... will hold bend without kinking or crimping
increased seismic safety - connectors will flex rather than break during an earthquake
no dielectric union required
burst pressure rated up to 2200 psi (working pressure 200 psi)
high Temp EPDM Washer (-40° to 220 °F)
100% Leak Tested
Specifications
Material
Inside Diameter
Fittings
Length
Flexible, Corrugated,
304 Stainless Steel
3/4"
3/4"
John Guest
Quick Connect
x
3/4" FNPT
18 inches
(45.7cm)
Falcon stainless steel connectors comply with the following plumbing / safety standards:
ICC-ES PMG
ASME A112.18.6
CSA B125.6-2009
NSF/ANSI Standard 61
(ICC-ES PMG Certified to ANSI/NSF section 9)
UPC, IPC, IMC, IRC (USA)
ICC Listed, Tested & Certified
Low Lead Compliant AB 1953
California H&S Code 116875
State of Wisconsin
Commonwealth of Massachusetts
L.A. City
South Texas
ICC-ES PMG
ASME A112.18.6
CSA B125.6-2009
NSF/ANSI Standard 61
(ICC-ES PMG Certified to ANSI/NSF section 9)

UPC, IPC, IMC, IRC (USA)
ICC Listed, Tested & Certified
Low Lead Compliant AB 1953
California H&S Code 116875

State of Wisconsin
Commonwealth of Massachusetts
L.A. City
South Texas