Stiebel Eltron Tankless Water Heater Isolation Valve Kit (#540444)
isolation valve kit for all electric and gas tankless water heaters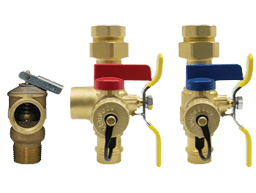 Stiebel Eltron Isolation Valve Kit (#540444)


Isolation valves make it easy to service your tankless water heater and provide a convenient shut-off point to isolate the heater for cleaning fluid circulation and other maintenance.
Kit includes lead-free inlet and outlet isolation valves and pressure relief valve.
Highly recommended for customers purchasing the Stiebel Eltron Flow-Aide De-scaling Kit #540000.